Enjoying the Ordinary
Article written by Carrie Le, Health Information Specialist
When Tommy and I decided that I would be a stay-at-home mom, I thought about what my days would look like – taking care of the house, playing with our kids, cooking and baking all day… Summers would be pretty relaxed – sleeping in, spending time outdoors laughing and enjoying the sunshine… My days can be like that now, but when Jet was born, we got some unexpected extras – weekly appointments, daily stretches, g-tubes, equipment, phone calls, appointments with specialists, medications… When Hawk came along that added some other extras – endless water refills, more medications, more weekly appointments, sensory issues… Sometimes the things I expected back then just don't happen every day.
_______________________________________________________________
The Arc of Indiana and Self Advocates of Indiana were honored to participate in a ceremonial bill signing at the Governor Eric Holcomb's Residence last week in support of Senate Enrolled Act 380 and Senate Enrolled Act 112.
SEA 380 adds Supported Decision Making (SDM) as an option for people with disabilities to get the support they need. It also requires less restrictive options, like SDM, be considered before a full guardianship is put in place. This new law will provide an option for a person to keep their legal rights to decision-making, but with a trusted team of supporters that they choose.
SEA 112 prevents discrimination against people with disabilities regarding organ transplants.
_______________________________________________________________
A Special Thank You!
ASK Parent Liaisons are busy this summer assisting families in order to fulfill our mission: helping children with special needs live better lives by educating, empowering, and connecting their families. We are also actively preparing to support families as the new school year approaches.
Although we provide information and referral to families of children with special needs, we assist first and foremost, by providing emotional support to families through our parent to parent model. ASK is committed to understanding each families unique needs and concerns and working to remove barriers to allow children to reach their full potential.
_______________________________________________________________
Congratulations and Happy Retirement – ASK Deputy Director, Jane Scott
Salute to a Leader and Champion Advocate for Families of Children with Special Needs
Jane has earned every inch of the recognition and accolades for her leadership and contributions to ASK for its growth and development as an essential statewide partner to Indiana's families of children with special needs. Throughout her tenure, Jane has been a leader and champion advocate for children with disabilities and their families. She has served on numerous councils and work groups to help strengthen parents in their roles as advocates for their children, and she has developed partnerships that have been instrumental in supporting ASK's growth as a statewide free information and resource for all Hoosier families of children with special needs.  
_______________________________________________________________
Indiana's Medicaid Waiver program for people with developmental disabilities provides home and community-based supports to people with intellectual and developmental disabilities and their families. Following is the latest waiver update from the Division of Disability and Rehabilitative Services.
_______________________________________________________________
The summer issue of The Arc News in Indiana is at the printer, but you can read it online now. Info in this issue includes articles on the effort to redesign Indiana's Medicaid Waiver program and an overview of the current waiver program, the Employment Workgroup's study to transition employment from sheltered workshops, Supported Decision-Making, and how The Arc Master Trust helped make a beneficiary's dream vacation come true.
_______________________________________________________________
College?  Have you thought about your child with special healthcare needs going away to college?  It is a scary thought for any parent, but particularly for the parent whose child has additional challenges!  According to the Institute for Higher Education Policy, one in eleven freshman college students report some sort of disability.  However, despite the disability many complete their education at the post-secondary level, whether at a trade school or through a two or four-year college program. 
_______________________________________________________________
1102 Task Force Reconvenes
The Task Force for the Assessment of Supports and Services for People with Intellectual and Developmental Disabilities, also known as the 1102 Task Force, is reconvening to monitor the implementation of the task force's overall recommendations. The meeting will be held:
Thursday, June 13, 2019
9:00 a.m. – 12:00 p.m.
Indiana Statehouse
House Chamber
No public testimony will be taken, but the meeting is open to the public. The meeting will be streamed live. Click here to watch on Thursday.
_______________________________________________________________
NAA's Give A Voice program provides a 9.7″ iPad to qualifying individuals along with the Avatalker AAC app, AppleCare+ and a protective case. Learn more about this life-changing program on our website.
_______________________________________________________________
Staff News
Please join us in thanking Jenny Good, Administrative Operations Manager, for her five years of service to The Arc, as she moves on to new opportunities. Jenny provided invaluable service to The Arc of Indiana, The Arc of Indiana Foundation and ICEArc. She will be missed, but we wish her nothing but the best! 
The Arc of Indiana is seeking a Family Advocate to join The Arc Advocacy Network team. Learn More. To apply, please submit a cover letter to Karly Sciortino-Poulter, karly@arcind.org
_______________________________________________________________
Family-To-Family
School is out soon and summer will be here. The summer months provide for some of the most memorable moments for families. It can also cause some stressful situations for families with children with special health care needs. Here are some articles that provide tips and suggestions from other families:
_______________________________________________________________
Learn About, Supported Decision Making
Supported Decision Making agreements are formalized, written documents between an individual and their supporters who have agreed to help them make decisions.
Under Indiana's new law, those agreements must have at least one supporter and list what decision-making areas the supporter with assist with. Each SDM agreement must be in writing, dated and signed by the adult in the presence of a notary.
_______________________________________________________________
School rainforest creators
How many teaching assistants can create a rainforest experience that sparkles with light? That's just what Georgios Ignatiou and Krishna Ellsworth, pictured above, have done at Grafton Primary School in Islington, London.
_______________________________________________________________
Walking for Dreams is just around the corner and we would love to have you join us.  Gather your family, and your dog, and come out for a fun day with ASK.
When:  May 19, 2019
            Registration – 1:00 p.m.
            Walk – 2:00 p.m.
Where:  Walking for Dreams registration area and beginning and ending of the Walk will be at the north end of the Canal at Buggs Temple. Buggs Temple is located at 337 West 11th Street between Meridian and Dr. Martin Luther King Drive.
You can register to walk at www.walkingfordreams.org.    

_______________________________________________________________
We are The Arc – The Arc of LaGrange County

During the month of May, we will be traveling throughout the state, visiting our 43 local chapters of The Arc. Be sure to follow us on Facebook and Instagram#wearethearc2019.
Friday, we visited The Arc of LaGrange County in northeast Indiana. A dedicated staff provides employment and day programs, residential services and respite care through a unique respite care home. They also provide a baby monitoring program at no charge. Once a month, new parents receive information on developmental milestones infants should be reaching and consultations are offered to families if there are any concerns. Infants and toddlers who need supports and services are referred to First Steps, Indiana's early intervention program.
_______________________________________________________________
INDIANAPOLIS – On Wednesday, April 24, Governor Eric Holcomb signed legislation recognizing Supported Decision-Making Agreements as a valid way for someone to demonstrate decision-making capacity in Indiana and requires Less Restrictive Alternatives (LRAs), including Supported Decision-Making to be considered before a court will appoint a guardian.
_______________________________________________________________
The Senate Appropriations Committee approved an amendment to the state budget that would provide a $10 million "bucket" for FSSA to fund direct care providers, including the FSW waiver, CIH waiver, group homes, First Steps and other providers.
Here is the breakdown between the House and Senate versions of the budget:
First Steps
House – $20 million per year
Senate – Current $11 million level of spending, plus money form the "bucket."
DSP Wages
House – No additional money
Senate – Money from the "bucket"
VR
House – No additional money
Senate – No additional money
_______________________________________________________________
Study calls for interventions for adults | High noon at High Court | Charity slams Labour over neurodiversity | Potential treatment for Fragile X
_______________________________________________________________
Read More for Upcoming Local Events, Northeast IN Autism Support Groups, and Local Autism Services and Programs.

_______________________________________________________________
Legislative Update
Important deadlines are coming for the 2019 session of the Indiana General Assembly.  All committee meetings must be done in the House on April 9th and in the Senate on April 11.
Our work continues to secure funding to increase wages for Direct Support Professionals. Your phone calls and emails are still needed! 
_______________________________________________________________
Family-to-Family
It's no secret that a sibling of a child with disabilities or a chronic illness faces unique challenges. Their brother or sister naturally receives a bigger share of the attention, and the sibling may have feelings of resentment, jealousy, anger, worry and other negative emotions. However, their unique situation also allows them to develop positive qualities. Family Voices Indiana sat down with an adult sibling, Lanea Bonney, for a chat about her experience as a sibling to a brother with multiple medical and developmental challenges.
Note: When parents tune in the needs of each child, they can help ease difficulties. We've offered some resources for families at the end of this article.
_______________________________________________________________
Congrats to Family Advocates Ofelia and Cyndi
Congratulations to Ofelia Jimenez and Cyndi Johnson, family advocates for The Arc Advocacy Network, who were honored last week for their advocacy and volunteer efforts in their community.
Ofelia received the Individual Adult Volunteer Award from Hammond Indiana Mayor Thomas McDermott Jr for her work with Grupo Hope, a parent support group based in East Chicago, IN that provides information and training to parents of children with disabilities and social activities for children and their families.
_______________________________________________________________
In Honor of World Down Syndrome Day March 21, 2019
Thanks to all the families, advocates, and professionals who make a difference
in the lives of people with Down syndrome.
Nataly Jimenez, daughter of Ofelia Jimenez, family advocate for The Arc Advocacy Network asked us to share her message on World Down Syndrome Day,
"I am dancer, a singer, a warrior, a believer, and I have Down syndrome. Same dreams, same hopes, same fears, what is the difference?"
Thank you, Nataly, for the difference you make in the world each and every day.
_______________________________________________________________
Call to end benefit reassessments
People with learning disabilities should be exempt from benefit reassessments. That's the view of Dan Scorer, head of policy for the charity Mencap…
_______________________________________________________________
We are The Arc Awareness Day!
On Wednesday, March 6, as part of Disability Awareness Month, we want to raise awareness about The Arc across the state in our first We are The Arc Awareness Day.
Have you received services from The Arc of Indiana, The Arc Master Trust or Erskine Green Training Institute?
Do you work for a chapter of The Arc, or are you a volunteer or board member?
If you use social media, on March 6, share how The Arc has made a difference in your life with the hashtag #WeareTheArc.
_______________________________________________________________
Autism Society of Indiana: Excited to Announce Relay4Autism in Highland!
We are excited to announce we will be partnering with the North Township Trustee to have a Relay4Autism in Highland!
August 3, 2019
9:00am to 1:00pm
Wicker Memorial Park
8554 Indianapolis Boulevard
Highland, IN 46322
Relay4Autism will have a Resource Fair with vendors ready to talk with you about their local autism services and resources, like North Townships Emergency Identification Bracelet Program. While learning about autism, individuals and families affected by autism can have fun with tons of entertainment: carnival games, balloon artist, face painters, music, sports area, craft area, sensory area, emergency vehicles, and lots more! Something for everyone!
View The Newsletter and Learn More
_______________________________________________________________
Northeast Indiana Autism Insider
Check out our newsletter to learn more about upcoming events, northeast IN autism support groups, and local autism services and programs!
_______________________________________________________________
First Steps, ABLE Accounts Bills Scheduled for Ways & Means Hearing
HB 1216, legislation to increase funding for Indiana's First Steps, early intervention program; and HB 1350, legislation to create a tax credit for contributions to Indiana ABLE accounts, will be heard in the House Ways and Means Committee, Tuesday, February 5, 10:30 a.m. in Statehouse room 404.
Please contact your state representative and ask for their support of HB 1216 and HB 1350. This is particularly important if your representative is a member of the House Ways and Means Committee…
_______________________________________________________________
Join the ASK Team: Parent Liaison Opening
About Special Kids (ASK) is currently hiring a 20 hour per week Parent Liaison. This staff position will support our efforts state wide and will provide information, one-on-one educational training, and support to families of children with special needs. The positions require reflective listening skills, understanding of individuals from diverse cultures, ability to communicate effectively both on the phone and through written email and letters, and a basic understanding of the services and supports available to children with disabilities and their families. The ideal candidate is passionate about advocating and working with other parents to improve outcomes for children with special needs. This position will be 20 hours per week. Other benefits include 9 paid holidays per year and paid time off for sick and vacation time.
_______________________________________________________________
FORT WAYNE, Ind. (WANE) – In a true example of Christmas magic, Austin Maners, 4, and the mall Santa that fed him cookies and milk in a viral photo were reunited.
Austin's mom, Beth Salzbrenner took him to Glenbrook Square Mall Sunday to get a special picture with Santa. While they were there, they asked if Santa would take a photo while pouring "milk" (formula) into Austin's feeding tube that he relies on.
Salzbrenner then posted the photo on her Facebook page, where it quickly went viral.
_______________________________________________________________
Welcome to FV Indiana's Guide to the Legislative Session. This year brings a "long session" that will begin on January 3, 2019, and is expected to last through April 29, 2019. This session will provide many opportunities for families to be involved, share your experience, and build relationships with legislators that will impact current and future decisions. This guide is intended to be a reference issue; in it you will find information on how a bill becomes a law, definitions and translations of acronyms and information on the House and Senate leadership. We encourage you to contact your legislators, make the effort to introduce yourself, share your perspective, and continue to build a relationship.
Watch FV Indiana and other sources for action alerts as the session progresses.
If you have information about the session to share please call us at 844 F2F INFO or email info@fvindiana.org.
_______________________________________________________________
Happy Holidays from The Arc! May the holiday spirit be with you and your family today and throughout the New Year.
_______________________________________________________________
You still have time to make a donation to help those affected by autism find meaningful jobs in Indiana. Our ASI #GivingTuesday Campaign will go until December 15th!
There are three ways to give.
Facebook Fundraiser on ASI's Facebook page
Go to our website www.autismsocietyofindiana.org at the top right donate button
Send a check made out to:
Autism Society of Indiana
1800 N. Meridian St. Suite 600
Indianapolis, IN 46202)
When you make a donation it will 100% STAY in Indiana! We appreciate your continuous support by making sure every individual and every family affected by autism in Indiana will receive high-quality services they deserve!
_______________________________________________________________
Autism Eye Star of the Month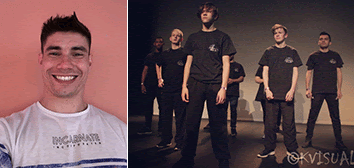 Jonathan Baron, Dance Teacher
Jonathan Baron has achieved such success in teaching dance to children with autism that he has scooped an Inspirational Teacher Award. The dance teacher at Hillingdon Manor School in West London won the accolade at this year's National Association for Special Educational Needs (Nasen) Awards.
He introduced dance to the school to provide an expressive outlet to help students develop skills on and off the dance floor. His lessons are said to have helped provide structure and familiarity, as well as boosting individuals' well-being, building muscle memory, balance, body awareness, sensory co-ordination and spatial awareness. His support is also said to have helped each dancer's self-belief and given them more confidence to flourish.
In 2013 he founded street dance group Autism With Attitude at the school. In May this year the group, pictured above right, won second place in the European United Dance Organisations Championships in Germany. They were the first special needs dance group to compete in the finals, with judges apparently unaware of the students' autism.
To help students overcome anxieties over making the trip, the group visited Heathrow Airport, where staff helped to familiarise them with check-in and security procedures. They also had the opportunity to experience flight conditions in a flight simulator.
Jonathan told Autism Eye: "The approach I have to my students is similar to the way I myself have been taught. I teach them like they are no different to anybody else and time and time again it has shown to work wonders for their development.
"At the end of the day students do not wish to be treated differently because of their autism. Our approach, 'you can achieve anything if you work hard enough for it', has resonated really well with all students and is largely the reason they have become so good so quickly."
_______________________________________________________________
Cruising for Dreams
From the moment you cross the gangway, you'll feel as though you've been swept away to the beautiful Greek Isles aboard a luxury cruise liner. Enjoy an evening of relaxation and fun with a Greek-inspired dinner, deck games, silent auction, art gallery, and more!
Cruising for Dream supports Erskine Green Training Institute in providing post-secondary vocational training opportunities for people with disabilities. Since EGTI's doors opened in 2016, over 100 students have completed the program and the employment rate for graduates is consistently over 80%.
VIP Tickets include admission to the VIP Reception inside EGTI from 5:30 – 7 pm.
The reception will allow guests to meet current students and tour the EGTI classroom!
_______________________________________________________________
Vibes | A life-changing tool for sound sensitivity
Know someone on the spectrum that's sensitive to sound? Tired of bulky earmuffs that prevent them from being able to hear anything at all? Vibes Hi-Fidelity Earplugs (as seen on ABC's Shark Tank and in Autism Parenting Magazine) are reusable earplugs that lower the volume of your environment to a more comfortable level, but still allow you to hear everything around you clearly. Plus, Vibes come with three sizes in each package, and their clear design makes them much more discreet than earmuffs or bright foam earplugs.
You can use promo code "NAA2018" to get 15% off plus free shipping when you order from Vibes' website.
Click here to learn more about Vibes Hi-Fidelity Earplugs and how they can be life-changing tools for individuals on the spectrum.
Cords that clip onto the ends of the earplugs and allow them to be hung around the neck are available here.
_______________________________________________________________
Autism Link to Post-Traumatic Stress
Many autistic people might have some form of post traumatic stress disorder (PTSD), researchers believe. They are investigating whether people with autism are more vulnerable to PTSD. Many autistic people might have some form of post traumatic stress disorder (PTSD), researchers believe. Dr Connor Kerns: she says there should be better assessment of post traumatic stress disorder in people with autism Among them is Dr Connor Kerns, assistant professor of psychology at the University of British Columbia in Vancouver, Canada. She believes that PTSD in autism is more common than reported in most studies to date. Very stressful, frightening or distressing events can cause PTSD, which is an anxiety disorder. Kerns says most research has either suggested PTSD rates are very low in autism at between 0 per cent and 3 per cent, or failed to make any assessment. Learn More
_______________________________________________________________
Happy Holidays from ASK
During this special time of year, we would like to wish you and your family a very happy holiday. Thank you for letting us get to know you and your family and allowing us to be a small part of your journey. We look forward to a wonderful 2019 and continuing to help families of children with special needs.
_______________________________________________________________
Educational Perspectives Survey
Within this survey, Indiana educators and families are being asked their personal views regarding the desirability and feasibility of students with disabilities being included in the general education setting. This survey will be distributed annually to determine if there is a shift in attitudes and beliefs over time in providing equitable access to students with disabilities in general education settings.
_______________________________________________________________
Network of 200 Genes Linked to Autism
Researchers have discovered a network of more than 200 genes linked to autism.The findings are part of a research programme led by the University of Toronto's Professor Benjamin Blencowe.Researchers have discovered a network of more than 200 genes linked to autism. Researchers Thomas Gonatopoulos-Pournatzis and Professor Benjamin Blencowe, whose work has identified more than 200 genes linked to autism. The scientist said the work has revealed how very short segments of genes with links to autism become spliced. Network of 200 genes key to brain wiring and behaviour. The network of more 200 genes works to control the splicing.That process diversifies protein molecules in the brain and other parts of the body.Toronto scientists showed previously how when this process is disrupted it is closely linked to altered brain wiring and behaviour found in autism. Researcher Thomas Gonatopoulos-Pournatzis led the study. He said understanding how the gene segments become spliced means "you can potentially target it using rational approaches to develop therapies". Scientists have linked hundreds of genes to autism. This makes its genetic basis difficult to untangle. Alternative splicing of small gene fragments, or microexons, has emerged as a unifying concept in the molecular basis of autism.The concept emerged after scientists discovered the splicing had been disrupted in a large proportion of people with autism. Microexons affect the ability of proteins to interact with each other during the formation of neural circuits in the brain.They are especially critical because of the role they play in combining proteins during the splicing process. Microexons perform a type of microsurgery on proteins to alter their function. Learn More
_______________________________________________________________
ASI Giving Tuesday
Next Tuesday is #GivingTuesday!
Greg Boyce, Executive Director talks about our ASI #GivingTuesday Campaign asking for help to create a scholarship fund for individuals with autism find meaningful jobs!
All the money donated will 100% STAY in Indiana!
_______________________________________________________________
Employment Opportunity
CDC Resources, Hoosier Prairie Arc, is accepting applications for Executive Director.
CDC Resources Executive Director Job Announcement
_______________________________________________________________
Kim Opsahl to Serve as DDRS Associate Director
Kim Opsahl, who began her career in the disability field as a direct support professional in college, has been appointed to serve as the assistant director of the Division of Disability and Rehabilitative Services.
In their announcement, DDRS noted, "Kim brings over 20 years of experience working with state government and advocating on behalf of various programs and services to support Hoosiers with disabilities to this new role. Most recently, she worked with the American Network of Community Options and Resources as the director of state partnerships and special projects. In this national role, she served a liaison for ANCOR's State Association members and provided subject matter expertise in a number of areas including Medicaid home and community-based services. Prior to working with ANCOR, she served as the president/CEO for the Indiana Association of Rehabilitation Facilities. Kim earned her law degree from the Indiana University Robert H. McKinney School and is admitted to practice in the state of Indiana."
Kim currently serves on the advisory committee of The Arc Master Trust and has joined us as a chef at Indy Cooks for The Arc.
Congratulations Kim!
_______________________________________________________________
Hope Dashed Over Medical Cannabis
HOPES DASHED OVER MEDICAL CANNABIS
The mother of a young boy with epilepsy says new prescribing guidelines for medical cannabis are so restrictive "almost no-one" will get it. The law changed on 1 November to allow access to medical cannabis under prescription in the UK. However, Hannah Deacon, who fought to give her son medical cannabis, says guidelines on prescribing it are far too restrictive.The mother of a young boy with epilepsy says new prescribing guidelines for medical cannabis are so restrictive "almost no-one" will get it. Hannah Deacon with son Alfie: "Without access to this medicine his epileptic seizures will come back," she says. As a result, she says thousands like her have had their hopes dashed since the drug became available on prescription.150 seizures a month before the change in the law, Deacon had received a special temporary licence to give the drug to six-year-old son Alfie Dingley. He had been suffering 150 seizures a month. But she said the change in the law meant the Government took away the temporary license.They said he no longer needed the license because a doctor can now write him a prescription, as with any other medicine. Learn More
_______________________________________________________________
Get Out & Vote!
Be sure to vote on Election Day, Tuesday, November 6!
Visit our Public Policy Advocacy Center to find election information, including candidates in your district and where to vote.
_______________________________________________________________
2018 Founder's Breakfast
About Special Kids held it's 2nd Annual Founders Award Breakfast on November 1st. This year we honored two Indiana companies, No Label at the Table and BraunAbility. We were also pleased that Indiana Lt. Governor Suzanne Crouch, who chairs the Intellectual and Developmental Disabilities Task Force, was able to join us and speak about the work of the Task Force. She and ASK Board President, Joshua Pascoe, presented the awards to our honorees.
_______________________________________________________________
Antibiotic Tested as Autism Treatment
Researchers from the Cincinnati Children's Hospital Medical Center, the University of Pittsburgh, and the University of Missouri, think the antibiotic may help to treat brain inflammation. Dr Logan Wink is an associate professor in psychiatry at Cincinnati Children's Hospital. Wink, who leads the study, said minocycline "is known to have direct neuroprotective effects, as well as anti-inflammatory properties".Health firm Quadrant Biosciences is helping to fund the work. It will collect saliva from people involved in the study to assist with its research on the genetics of autism. Learn More
_______________________________________________________________
Join Our Team!
Area Support Coordinator (Part-time, Southwestern Indiana)
Providing support for individual and families affected by autism through education, advocacy, support groups and/or service referrals. Making sure that individuals and families affected by autism get the highest quality service available in their local area.  Learn More
Career Specialist ( Part-time, Indianapolis)
The career specialist is responsible for working with individuals affected by autism who are looking for meaningful employment by providing the comprehensive, coordinated, effective, efficient and accountable services needed to prepare for, enter, engage in and retain employment consistent with each individual's strengths, resources, priorities, concerns, abilities, capabilities and informed choice.  Learn more.
_______________________________________________________________
2018 Election Update
Whose Leading Indiana
After all the campaigning, the 2018 elections are now over, and new leaders, as well as incumbents, will be leading Indiana. Here is an overview of the 2018 election results.
U.S. Senate
Republican Mike Braun beat out incumbent Democrat Joe Donnelly with a margin of 52-44. This leaves Republicans in control of the U.S. Senate.
Indiana's Senate Delegation
Todd Young and Mike Braun
U.S. Congress
Not too much change up happened in Indiana's Congressional races as Representatives Visclosky and Carson are the only Democrats representing Indiana in Washington, D.C. However, two rookies have joined their Republican colleagues to represent the Hoosier state in our nation's capital – Jim Baird and Greg Pence. A blue splash was made in Congress as the Democrats have now taken control of the U.S. House of Representatives, winning the majority in the lower chamber.
Indiana's Congressional Delegation:
District 1- Peter Visclosky
District 2- Jackie Walorski
District 3- Jim Banks
District 4- Jim Baird
District 5- Susan Brooks
District 6- Greg Pence
District 7- Andre Carson
District 8- Larry Bucshon
District 9- Trey Hollingsworth
Statewide Elected Officials
At the state level, Republican women swept the podium.
Secretary of State
Connie Lawson
Auditor
Tera Klutz
Treasurer
Kelly Mitchell
Also on the ballot was a key question asking voters if Indiana's Constitution should require a balanced budget. More than 71% of Hoosiers supported the measure.
Indiana Senate
Indiana's Senate Democrats gained a new senator and defeated a long-time Republican incumbent. Jon Ford beat Mike Delph to represent Senate District 38 at the Statehouse. Ford is the first openly gay lawmaker to be elected to serve in the General Assembly.
The Senate Republicans still maintain their Super Majority with 40 Republicans to 10 Democrats.
Indiana House of Representatives
House Democrats picked up at least two more seats, inching closer to breaking the Republicans Super Majority. With some delays in vote counting in Northwest Indiana the results are still out to see if Republican incumbents Julie Olthoff and Ed Soliday will remain in the Statehouse.
Stay Informed
_______________________________________________________________
Infants' pupil responses may help predict later ASD
The pupillary responses of infants to changes in light may help researchers diagnose autism spectrum disorders (ASD) very early in life, according to a new study.    Read More
_______________________________________________________________
Study finds no effect on metformin on memory in individuals with ASD
Increasing numbers of individuals with autism spectrum disorders (ASD) are taking metformin to counteract weight gain caused by antipsychotic drugs such as risperidone (Risperdal). While studies differ as to the results of metformin on memory-with some reporting that it enhances memory, and others reporting that it impairs it-new research suggests that it has neither a positive nor a negative effect on memory in individuals with ASD.    Read More
_______________________________________________________________
2019 Legislative Session Organizational Day
The Indiana General Assembly will meet at the State House on Tuesday, November 20, 2018 for the 2019 Legislative Session Organizational Day. Both the Indiana House of Representatives and Senate will be in session that day. It is a good day to visit with your legislators before the actual 2019 Session begins in January.
_______________________________________________________________
The Time Is Now!
Right now, there's an opportunity to provide input to the ID/DD task force. The last time they asked for input on this level was in 1997; it's for the purpose of gathering input to prepare a comprehensive plan for implementation of community-based services provided to people with intellectual and other disabilities.
Meetings are being held around the state, so please try find time to share your thoughts and perspectives. Often, providers have the time to provide input. They do it during their paid work day. The state hears from them….sometimes only from them. It is imperative that families find time to provide input on policies and procedures that affect our daily lives.
They accept public comments (limited to two minutes each) at these meetings.
If you don't have the time or transportation to attend them in person, you can watch online HERE.
You can also submit written comments via email to Kristina.Blankenship@fssa.in.gov
______________________________________________________________
Art & Autism. Autism & Art. Meet Jigsaw Grant…
Emerging as one of the most notable young artists of the new millennium, Grant Maniér (maun-yay), a young talented Eco-Artist combines his two worlds: autism and art. His obsession for paper became his form of art therapy.
______________________________________________________________
Six Ways to Support an Autism Family
Autism can be a tricky disability because it isn't easily understood. It isn't always obvious. It presents differently in each person and the symptoms and behaviors can change from day to day. You don't need to be a behavior expert or psychiatrist to support a family with an autistic member. Here are some ways you can support an autism family, even if you have no knowledge of autism. Honestly, these are just great ways to support a young family, disability or not. Read more…
______________________________________________________________
Inspiring Video
Autistic teen who is usually nonverbal gives a powerful speech at high school graduation
______________________________________________________________
What You Need to Know About Neurodiversity
Watch video on neurodiversity to learn more about Neurodiversity
______________________________________________________________
Early Learning Champion Alert:
Is a communication and collaboration gap holding back Hoosier children? In our newest "Mile Markers" report, Early Learning Indiana explores how early childhood programs and elementary schools could more fully align.
"Mile Markers: Smoothing the transition from Pre-K to Elementary School," urges greater continuity between early learning and K-3 standards, assessments, curricula and professional development standards; the collection of longitudinal data across the two systems to better track growth; and the coordination of kindergarten transition efforts between early education programs and schools.
"Right now we have two very different systems that often don't support one another – and we are losing opportunities because of it," said Dr. Karen Ruprecht, Early Learning Indiana's Director of Research and Practice. "By making some policy changes to line up Indiana's early education system with our elementary system, we can achieve savings and ensure better outcomes for our kids."
In 2016, Indiana spent $24 million in kindergarten remediation, the most spent on any grade level.
This is the third in a series of in-depth policy briefings examining different challenges and opportunities surrounding Indiana's On My Way Pre-K program. The series supplements Early Learning Indiana's "On the Road to Pre-K Expansion" roadmap, which was released in June.
Funded through a grant from the Joyce Foundation, the full issue brief and additional reports can be viewed here.
Please take a few minutes to review this policy briefing and share it with your friends, colleagues and early education advocates. Also, please encourage them to visit our advocacy page and sign up to be an Early Learning Champion so they can receive information and alerts like this.
Thanks for all that you do for Indiana's children and families!
– Early Learning Indiana
______________________________________________________________
Rare Genetic Mutation May Give Insight into How the Brain is Wired
______________________________________________________________
Did Chinese scientists find autism's missing puzzle piece?
______________________________________________________________
Time to renew your Autism Awareness License Plate!
We appreciate your generous support in purchasing or renewing your Autism Awareness License Plate!
When you purchase an Autism Awareness specialty license plate for your motorcycle, passenger vehicle, or truck, you are directly helping the Autism Society of Indiana (ASI) to provide continuous support and training for Indiana families and individuals living with autism. More importantly, you are spreading autism awareness throughout the community, which starts conversations about autism along with the willingness of those wanting to help and support everyone affected by autism.
ASI receives $25 from each purchase which supports our programs around Indiana, and helps us to provide services and supports at no cost to individuals with autism and their families.
Follow this link for more information about purchasing or renew your Autism Awareness License Plate!
______________________________________________________________
Giving Tuesday – Autism Research Institute
2017 marks the Autism Research Institute's 50th Anniversary… 50 years of serving the autism community and promoting and supporting research. Later this month on #GivingTuesday, November 29th, we are launching #Give50, a campaign to raise support in honor of this milestone.
Click here to donate now!
______________________________________________________________
All IN 4 Pre-K Coalition
With the General Assembly continuing to debate the expansion of high-quality pre-k in Indiana, the All IN 4 Pre-K coalition is excited to share new support for this movement and two easy things you can do to advance this cause.
In the last week, both United States Senator Joe Donnelly and Lieutenant Governor Suzanne Crouch have spoken out in support of expansion this year. You can read Sen. Donnelly's statement here, and read Lieutenant Governor Crouch's statement here. Along with a number of editorials and columns in newspapers across the state, including this recent editorial from the South Bend Tribune, the momentum is clearly on our side.
Here are 2 things you can do right now to move the pre-k issue forward:
Please reach out to

Senator Donnelly

and

Lieutenant Governor Crouch

 today to thank them for their support.
Contact your

state legislators

and the

Governor

to let them know why you support pre-K expansion.
Together we can make a difference for the next generation of Hoosiers!

Click here or to see the entire list of organizations that have joined the All IN 4 Pre-K coalition.
Learn more – http://www.allin4prek.com/
________________________________________________
Autism and Health: A Special Report by Autism Speaks
Advances in understanding and treating the physical and mental health conditions that frequently accompany autism. Click here to learn more.
________________________________________________
4th Annual Autism Resource Fair Huge Success
________________________________________________
STORIES ON THE SPECTRUM
Autism Awareness Month is officially over, but we continue the celebration of acceptance all year long. Pathfinder is sharing stories about people from within the autism community. – "Stories on the Spectrum."
In part five of our series, we are grateful to share a story written by Diedra Freedman, autism advocate, lawyer and mother of Andy, a teenage boy on the spectrum. Read her inspiring story about creating every possible opportunity to enable their son to use his strengths to contribute to their community.
______________________________________________________________
EACS approves backpack limits: Autistic students will be assisted, officials say
______________________________________________________________
Richard and Jaco: Life with Autism
"I'm being led by the hand by my child, not the other way around." – Jaco has autism. His dad, Richard worries about how he'll fit into the adult world. Watch the video
Beautiful Video Explaining Autism
Two years of love and care went into creating this wonderful animation to raise understanding and acceptance of autism. Watch the video
'Til Death Do Us Part
What a valuable lesson… this story brought me to tears! Watch the video
Dr. Stephen Shore: The Importance of Art and Music for Autistic People
When I was a child, music, laughter, and a conscious focus on my abilities filled our home. The radio, always tuned to classical or popular music stations, encouraged singing, movement, and playful narration. My parents, who were quite progressive for the times, defied the conventional wisdom of the mid-1960's; that I be institutionalized. Instead, they were determined to provide me with a foundation that emphasized music, creativity, movement, sensory integration, narration, and imitation. In today's terms, we would call their efforts an intensive home-based early intervention program, probably most closely related to the cognitive-developmental systems approach called the Miller Method…Read more
Star Wars Creator George Lucas Writes Heartfelt Letter to Boy with Autism
With Star Wars receiving national attention as of late I recently stumbled upon this heartfelt story from Colin, a 7-year-old boy with autism who wants to be a Jedi Knight. He got upset though when he realized that Jedi's are not allowed to get married. Colin at that moment decided to write a letter to Star Wars creator George Lucas asking if he would be able to change the rules for him…Read more
How Craniosacral Therapy Can Make a Big Difference with ASD
An autism spectrum disorder (ASD) diagnosis can be difficult news to hear.  Parents of newly diagnosed children, or adults with autism, actively seek out treatment methods that relieve the anxiety and stress that can accompany autism. When anxiety and stress are relieved, daily functions improve, sometimes dramatically.  One gentle and reliable method that can often provide this welcome relief for people with ASD is craniosacral therapy.
What Is Craniosacral Therapy?
Craniosacral therapy is a manual, hands-on form of therapy that promotes improved health, both physical and emotional, via gentle touch to the head, neck, and spine…Read more
How to Take Charge of Your Child's ASD Treatment Now
It was an ordinary weekday morning in September.  I was sitting at the kitchen counter working on an assignment for one of my graduate school classes when the phone rang.  The caller ID told me it was someone from my son Alexander's school, and my mind immediately began to race. Was there a problem? What could it be?
"We had an incident and need you to pick your son up from school." These were the words I heard from Alexander's special educator when I answered the phone.  Alexander, who had just begun fourth grade, had had a meltdown at school and no one could calm him down.  My heart sank…Read more
Best Ways to Integrate Tech and Gadget-Like Toys with Autism
They don't make toys like they used to. It's not uncommon to still see the dolls and action figures of yesteryear, but as we have progressed scientifically and experienced innovative breakthroughs across technologies, toys today are more than that. They're interactive companions, sometimes designed from a pure entertainment perspective. And, more often than not, they are keenly developed as a medium of education to foster personal development and growth.
Technology is increasingly becoming a part of nearly every facet of our lives—which means it makes sense to introduce modern tech toys and gadgets early on to children, under supervision, to build familiarity with how these devices work…Read more
Autism Schools and Education Facilities – The Ultimate Guide
As we all know, no two children diagnosed with autism spectrum disorder are alike.  Experts agree, children with autism learn differently and have a wide range of developmental and educational needs. Unfortunately, teachers and support staff are often unfamiliar with the special needs of kids diagnosed with autism and struggle to teach them effectively.  And, too often, administrators and teachers don't fully understand the autism diagnosis and deem meltdowns and other communication challenges as "bad" behavior.
This typically makes it a huge challenge for families to find the "right" educational fit. All kids deserve to be surrounded by people who believe in them, understand them, and support their needs…Read more
The Ultimate Guide to Autism Therapies and Solutions
Finding the best method for treating autism is often a challenge for the loved ones of children and adults with autism spectrum disorder (ASD).  Because no two people with ASD are exactly the same, it's vital to choose a method of treatment and therapy and an intervention plan that is tailored to address specific needs…Read more

Early Signs of Autism
Early signs of autism spectrum disorder (ASD) can be detected in infants, yet many children with autism do not receive a diagnosis until the ages of two or three. While not every autistic baby is able to be diagnosed as an infant, there are many benefits to receiving a diagnosis before reaching preschool age.
Check out our complete guide on how to recognize signs of autism in infants and children:
https://www.autismparentingmagazine.com/signs-of-autism-children/
______________________________________________________________
Autism Research Institute – September 2018 Newsletter
________________________________________________
Autism|Eye – September 2018 News
______________________________________________________________
The Arc of Indiana – Newsletter 9-23-2018
________________________________________________
HANDS in Autism – News & Updates – September, 26th 2018
___________________________________________________________
The Arc of Indiana – Newsletter 9-9-2018
________________________________________________
HANDS in Autism – News & Updates – August, 22nd 2018
___________________________________________________________
The Arc of Indiana – Newsletter 8-19-2018
________________________________________________
Autism Research Institute – August 2018 Newsletter
________________________________________________
ACT TODAY – Autism Care and Treatment – August 2018 Newsletter
______________________________________________________________
The Arc of Indiana – Newsletter 8-12-2018
________________________________________________
HANDS in Autism – News & Updates – August, 8th 2018
___________________________________________________________
The Arc of Indiana – Newsletter 8-5-2018
________________________________________________
The Arc of Indiana – Newsletter 7-29-2018
________________________________________________
Autism|Eye – July/August 2018 News
______________________________________________________________
HANDS in Autism – News & Updates – July, 26th 2018
___________________________________________________________
Early Learning Indiana – July, 19th 2018
___________________________________________________________
The Arc of Indiana – Newsletter 7-15-2018
________________________________________________
Autism Research Institute – July 2018 Newsletter
________________________________________________
The Arc of Indiana – Newsletter 7-8-2018
________________________________________________
HANDS in Autism – News & Updates – July, 11th 2018
___________________________________________________________
ACT TODAY – Autism Care and Treatment – July 2018 Newsletter
______________________________________________________________
ASK – Answers for families of kids with special needs – June 2018 Newsletter
______________________________________________________________
ACT TODAY – Autism Care and Treatment – June 2018 Newsletter
______________________________________________________________
Autism|Eye – Summer 2018 News
______________________________________________________________
Autism Research Institute – June 2018 Newsletter
________________________________________________
Autism Research Institute – May 2018 Newsletter
________________________________________________
The Arc of Indiana – Newsletter May 20th, 2018
________________________________________________
HANDS in Autism – News & Updates – May 23rd, 2018
___________________________________________________________
Autism Speaks – E-Speaks Newsletter – May 2018
______________________________________________________________
The Arc of Indiana – Newsletter May 2018
________________________________________________
ACT TODAY – Autism Care and Treatment – May 2018 Newsletter
______________________________________________________________
ASK – Answers for families of kids with special needs – May 2018 Newsletter
______________________________________________________________
The Arc of Indiana – Newsletter 5-6-2018
________________________________________________
HANDS in Autism – News & Updates – April, 25th 2018
___________________________________________________________
The Arc of Indiana – Newsletter 4-22-2018
________________________________________________
HANDS in Autism – News & Updates – April 2018
_____________________________________________________________
The Arc of Indiana – Newsletter 4-15-2018
________________________________________________
Family Voices Indiana – News & Updates – April 2018
__________________________________________________________
HANDS in Autism – News & Updates – April, 11th 2018
___________________________________________________________
Autism Research Institute – April 2018 Newsletter
________________________________________________
The Arc of Indiana – Newsletter 4-8-2018
________________________________________________
ASK – Answers for families of kids with special needs – April 2018 Newsletter
______________________________________________________________
The Arc of Indiana – Newsletter 3-25-2018
________________________________________________
HANDS in Autism – News & Updates – March, 28th 2018
_____________________________________________________________
Autism|Eye – March 2018 News
______________________________________________________________
Autism Speaks – E-Speaks Newsletter – March, 2018
______________________________________________________________
ASK – Answers for families of kids with special needs – March 2018 Newsletter
______________________________________________________________
The Arc of Indiana – Newsletter 3-04-2018
________________________________________________
HANDS in Autism – News & Updates – February, 28th 2018
_____________________________________________________________
Autism Speaks – E-Speaks Newsletter – January, 2018
______________________________________________________________
HANDS in Autism – News & Updates – January, 24th 2018
_____________________________________________________________
HANDS in Autism – News & Updates – January 2018
_____________________________________________________________
ASK – Answers for families of kids with special needs – January 2018 Newsletter
______________________________________________________________
HANDS in Autism – News & Updates – December 27, 2017
_____________________________________________________________
The Arc of Indiana – Newsletter 12-17-2017
________________________________________________
ACT TODAY! – Autism Care and Treatment – November 2017 Newsletter
______________________________________________________________
The Arc of Indiana – Newsletter 11-19-2017
________________________________________________
HANDS in Autism – News & Updates – November 1, 2017
______________________________________________________________
ASK – Answers for families of kids with special needs – November 2017 Newsletter
__________________________________________________________
The Arc of Indiana – Newsletter 11-12-2017
________________________________________________
The Arc of Indiana – Newsletter 10-29-2017
________________________________________________
The Arc of Indiana – Newsletter 10-22-2017
________________________________________________
HANDS in Autism – News & Updates – October 19, 2017
_____________________________________________________________
HANDS in Autism – News & Updates – October 4, 2017
______________________________________________________________
Autism Research Institute – September 2017 Newsletter
________________________________________________
The Arc of Indiana – Newsletter 10-8-2017
________________________________________________
ACT TODAY – Autism Care and Treatment – October 2017 Newsletter
______________________________________________________________
HANDS in Autism – News & Updates – September 26, 2017
______________________________________________________________
The Arc of Indiana – Newsletter 09-10-2017
________________________________________________
ASK – Answers for families of kids with special needs – September 2017 Newsletter
______________________________________________________________
HANDS in Autism – News & Updates – September 6, 2017
______________________________________________________________
WORKFORCE OF TODAY, WORKFORCE OF TOMORROW: The Business Case for High-Quality Childcare.
________________________________________________
ASK – Answers for families of kids with special needs – August 2017 Newsletter
______________________________________________________________
The Arc of Indiana – Newsletter 08-27-2017
________________________________________
HANDS in Autism – News & Updates -August 23, 2017
______________________________________________________________
The Arc of Indiana – Newsletter 08-06-2017
________________________________________________
ACT TODAY – Autism Care and Treatment – August 2017 Newsletter
______________________________________________________________
Autism Society of Indiana – August 2017 Newsletter
______________________________________________________________
Autism Speaks – E-Speaks Newsletter – July, 2017
______________________________________________________________
HANDS in Autism – News & Updates – July 21, 2017
______________________________________________________________
The Arc of Indiana – Newsletter 07-30-2017
________________________________________________
The Arc of Indiana – Newsletter 07-09-2017
________________________________________________
Autism Society of Indiana – July 2017 Newsletter
______________________________________________________________
ACT TODAY – Autism Care and Treatment – July 2017 Newsletter
______________________________________________________________
The Arc of Indiana – Newsletter 06-25-2017
________________________________________________
What Autism Can Look Like in the Classroom
_____________________________________________________
Why do those with autism avoid eye contact?
______________________________________________________________
Why You Should Think About Transitions Differently
______________________________________________________________
ASK – Answers for families of kids with special needs – June 2017 Newsletter
______________________________________________________________
Autism Research Institute – June 2017 Newsletter
________________________________________________
The Arc of Indiana – Newsletter 06-18-2017
________________________________________________
ACT TODAY – Autism Care and Treatment – June 2017 Newsletter
______________________________________________________________
Autism Society of Indiana – June 2017 Newsletter
______________________________________________________________
ACT TODAY – Autism Care and Treatment – May 2017 Newsletter
______________________________________________________________
HANDS in Autism – News & Updates – May 16, 2017
______________________________________________________________
Noble Life – May 2017 Newsletter
________________________________________________
Family Voices – May 2017 Newsletter
________________________________________________
Read Diedra's story here.
________________________________________________
Special Education Services Just Got Easier. . . and Harder (The Endrew F. Supreme Court Decision in the Court's Own Words)
________________________________________________
The Endrew F. Decision Re-Defines a "Free Appropriate Public Education" (FAPE) for Students with Disabilities
______________________________________________________________
Austism Society of Indiana – May 2017 Newsletter
______________________________________________________________
The Arc of Indiana – Newsletter 04-30-2017
________________________________________________
The Arc of Indiana – Newsletter 04-23-2017
________________________________________________
Noble Life – April 2017 Newsletter
______________________________________________________________
ACT TODAY – Autism Care and Treatment – April 2017 Newsletter
______________________________________________________________
HANDS in Autism – News & Updates – April 14, 2017
______________________________________________________________
ASK – Answers for families of kids with special needs – April 2017 Newsletter
______________________________________________________________
Family Voices Indiana – Newsletter 04-13-2017
________________________________________________
Unanimous ruling sides with argument of parents of son with autism
_______________________________________________
In unanimous decision, Supreme Court raises bar for special education (+video)
________________________________________________
ACT TODAY – Autism Care and Treatment – April 2017 Newsletter
______________________________________________________________
The Arc of Indiana – Newsletter 04-2-2017
________________________________________________
Austism Society of Indiana – Action Alert – Vocational Rehabilitation Services Change
______________________________________________________________
HANDS in Autism – News & Updates – March 29, 2017
______________________________________________________________
Autism Research Institute – Clinical Research in Austism – March 31, 2017
________________________________________________
The Arc of Indiana – Newsletter 03-26-2017
________________________________________________
Families United for Support and Encouragement – News & Updates – March 23, 2017
____________________________________________________________
HANDS in Autism – News & Updates – March 21, 2017
______________________________________________________________
The Arc of Indiana – Newsletter 03-19-2017
________________________________________________
Austism Society of Indiana – March 2017 Newsletter
______________________________________________________________
ASK – Answers for families of kids with special needs – March 2017 Newsletter
______________________________________________________________
Infant MRIs Show Autism Linked to Increased Cerebrospinal Fluid
______________________________________________________________
Autism Risk Linked to Herpes Infection During Pregnancy
______________________________________________________________
Brain Changes in Infancy May Predict Which High Risk Babies Will Develop Autism
______________________________________________________________
Typical Male Brain Anatomy Associated With Higher Probability of Autism Spectrum Disorder
______________________________________________________________
The Students Of Shema Kolainu School & Center for Children with Autism
______________________________________________________________
Autism Research Institute – March 2017 Research News & Updates
______________________________________________________________
HANDS in Autism – News & Updates – March 3, 2017
______________________________________________________________
4C of Southern Indiana – News, Updates and Deadline to Apply for On My Way Pre-K is March 31
______________________________________________________________
MIT Scientist Uncovers Link Between Glyphosate, GMOs And The Autism Epidemic
______________________________________________________________
Monsanto Glyphosate Roundup Herbicide Triggers Autism in Children. MIT Scientist
______________________________________________________________
The Arc of Indiana – Newsletter 02-5-2017
______________________________________________________________
Autism Research Institute – February 2017 Research News & Updates
______________________________________________________
Clinical Research in Autism – Issues 28 – January 2017
______________________________________________________
HANDS in Autism – News & Updates – February 1, 2017
______________________________________________________________
HANDS in Autism – News & Updates – January 20, 2017
______________________________________________________________
ACT TODAY – Autism Care and Treatment – January 2017 Newsletter
______________________________________________________________
HANDS in Autism – News & Updates – January 13, 2017
______________________________________________________________
News & Updates from Autism Society of Indiana – January 17th, 2017
______________________________________________________________
Autism Evansville News & Updates – January 15th, 2017
______________________________________________________________
HANDS in Autism – News & Updates – January 5, 2017
______________________________________________________________
FUSE (Families United for Support and Encouragement) – January 2017 Events and Updates
______________________________________________________________
21 Chrome Extensions for Struggling Students and Special Needs
______________________________________________________________
HANDS in Autism – News & Updates – December 21st, 2016
______________________________________________________________
Man with autism uses track & field to springboard life achievements
____________________________________________________________
Autism|Eye – December 2016 & January 2017 News
______________________________________________________________
Autism Evansville – December Newsletter and January 2017 Events
______________________________________________________________
The Arc of Indiana – Newsletter 12-18-2016
______________________________________________________________
ACT TODAY – Autism Care and Treatment – December 2016 Newsletter
______________________________________________________________
Aspie's Perspective: How Understanding ASD Can Bridge "Inclusivity" and "Open-Mindedness" to Help Build Better Future For All People on the Spectrum
______________________________________________________________
ASK – Answers for families of kids with special needs – December 2016 Newsletter
______________________________________________________________
Indiana University – Local Community Cadre Newsletter – December 2016
______________________________________________________________
The Arc of Indiana – Newsletter 12-11-2016
______________________________________________________________
Autism|Eye – Winter 2016/2017 News
______________________________________________________________
HANDS in Autism – News & Updates – December 7th, 2016
______________________________________________________________
The Arc of Indiana – 2017 Public Policy Agenda
______________________________________________________________
http://spiritofautism.org/autism-anxiety-its-not-what-you-think/
______________________________________________________________
Business Leaders Support Pre-K Expansion – All IN 4 Pre-K
______________________________________________________________
ACT TODAY – Autism Care and Treatment – November 2016 Newsletter
______________________________________________________________
Autism|eye – November 2016 Newsletter
______________________________________________________________
FUSE – Families United for Support and Encouragement – December 2016 Events
______________________________________________________________
Hands of Autism Newsletter – November 2016
______________________________________________________________
ARC of Indiana Newsletter – November 13th 2016
______________________________________________________________
ARC of Indiana Newsletter – November 6th 2016
______________________________________________________________
Folinic acid improves communication, eases autism symptoms in small study
______________________________________________________________
ASK Newsletter – November 2016
______________________________________________________________
HANDS in Autism® News & Updates – October 26, 2016
______________________________________________________________
11th Annual Denim Diamonds Stars Sunday October 23rd
This is an auction benefiting those with autism that can be accessed on-line.
www.DenimandDiamondsForAutism.net
______________________________________________________________
New study in San Diego reveals that an autism diagnosis can be guided by a brain scan.
www.sandiegouniontribune.com/business/biotech/sdut-autism-courchesne-brain-scan-2015apr09-story.html
______________________________________________________________
If you need a speaker for an organization or group, contact the Speakers Bureau. Information
can be found on https://www.saind.org/speakers-bureau
______________________________________________________________
NYSABA anounces 27th annual conference Albany NY
October 27th and 28th, 2016 www.nysaba.org
______________________________________________________________
Hands in Autism at the IU school of medicine is taking a needs assessment
survey. They ask that you please take the time to fill this out. This can be found at
https://redcap.uits.iu.edu/surveys/?s=4HMP4RKJFW
_______________________________________________________________t
Read about the "Office of Disability Employment Policy" (US Dept of Labor)
https://www.dol.gov/odeps
__________________________________________________________________
October is National Disability Employment Awareness Month
https://www.dol.gov/odep/topics/ndeam
____________________________________________________________________________________________
Changes have been made to the FAFSA
https://studentaid.ed.gov/sa/about/announcements/fafsa
___________________________________________________________________
3,800 more families needed for autism research
www.mercurynews.com/2016/09/13/biobank-aims-to-help-research-on-autism
_______________________________________________________________
ARTICLE: Timing is Key to Understanding Sensory and Social Issues in Autism
www.scientificamerican.com/article/timing-is-key-to-understanding-sensory-and-social-issues-in-autism/
________________________________
9-14-2016 Unexpected improvement in core autism systems following a probiotich
https://questioning-answers.blogspot.co.uk/2016/09/unexpected-improvement-in-core-autism-probiotic.html?m=1
____________________________________________________________________________________________________________________
Subscribe to the Schafer Autism Report www.sarnet.org
_______________________________________________________________________
Special Education Law Blog
www.specialeducationlawblog.blogspot.com/2016/09/my-summary–ofcaselaw-from2013-2014html?m=1
_________________________________________________________
Autism Safety Coalition: Law to combat wandering
www.autismsafetycoalition.org
_________________________________________________________________
Adults with Autism Spectrum Disorders: Survey Takers Needed
www.autism.com/adult_survey-quotiant-aq-measure.html?m
——————————————————————————————————————–
Advocacy and Autism Votes – Autism Speaks
https://www.autismspeaks.org/advocacy
__________________________________________________________________________
Autistic Self Advocacy Network www.autisticadvocacy.org
_________________________________________________________________________
Autism Safety Coalition Law to Combat Wandering Deaths
www.autismsafetycoalition.org
______________________________________________________________________
American Autism Association https://www.myautism.org
_______________________________________________________________________________________________________________
Autism Science Foundation
www.autismsciencefoundation.org/news/lack-of-association-between-measles-virus-vaccine-an
d-autism
_________________________________________________________________________________________
ESSA Every Student Succeeds Act www.doe.in.gov/essa
——————————————————————————————————————–
Autism Spectrum Explained
www.autismspectrumexplained.com/autism-controversies.html
_________________________________________________________________________
Autism Treatment Center of America
www.autismtreatmentcenter.org
________________________________________________________________________
Global Autism Project www.globalautismproject.org
_______________________________________________________________________
Autism Source www.autismsource.org
_________________________________________________________________________
NAC National Autism Center www.nationalautismcenter.org
________________________________________________________________________________________________________________
Autism Action Network www.autismactionnetwork.org/?mobile=0
______________________________________________________________________________
AOTA American Occupational Therapy Association, Inc.
www.aota.org/about-occupational-therapy/professionals/cy/articles/parents-autism.aspx
______________________________________________________________________
I Care 4 Autism International Center for Autism Research and Education
www.icare4autism.org
___________________________________________________________________________
World Autism Organization www.worldautismorganization.com
_______________________________________________________________________________
Autism International Foundation
www.autisminternationalfoundation.org
___________________________________________________________________________
International Society for Autism
www.internationalsocietyforautism.org
____________________________________________________________________________________
Home and commonly-based services final rule state-wide transition plan.
https://secure.in.gov/fssa/da/4917.htm
__________________________________________________________________________________
"Controling Temper Tantrumums in Children with Autism" —
Link: www.psy-ed.com/wpblog/how-to-control-temper-tantrums-in-children-with-autism/
____________________________________________________________________________________________________________
7-28-16 There is a new movie out about a young man with autism developing his own communication
skills. It is to be premiering August 5, 2016. Check your local theaters for LIFE ANIMATED.
_____________________________________________________________________________________________________________
New research on "The Huffington Post" http://m.huffpost.com/us/entry/10463702.html
——————————————————————————————————————–
Adults with ASD ARI E-bulletin www.autism.com/news_agi_ebulletin
____________________________________________________________________________________
IN autism and Autism Resource Network of Indiana (ARNI) have merged and formed one website.
They can be found at www.inautism.org
___________________________________________________________________________________________________
Schafer Autism Report www.autism.com/clinicalresearchinautism.com
______________________________________________________________________________________
"The Arc of Indiana " newsletter can be found at www.arcind.org
______________________________________________________________________________________
Several Autism Articles can be found by typing in one of the article titles. Try
"Online Autism Training Shows Promise for Families". This will lead you to those articles.
ALSO www.autismspeaks.org has many articles on differnt subjects.
______________________________________________________________________________________
An autism documentary is headed for the theaters. Watch for LIFE ANIMATED. Posted 6-17-16
______________________________________________________________________________________
Find an ineresting article at/on http://a.msn.com/05/en-us/AAh5Pyo?ocid=5c'
This article is entitled : EPILEPSY & AUTISM MAY SHARE COMMEN GROUND
______________________________________________________________________________________
Indiana Choice Scholarships Check the website for more information
www.doe.in.gov/choice
__________________________________________________________________
PEDIATRICS has published a special issue on autism-related health issues. This can
be found in Pediatrics Feb 2016, Vol 137, Issue Supplement 2.
__________________________________________________________________
INDIANA GENERAL ASSEMBLY TO VOTE ON INDIANA'S ABLE ACT LAW
The Indiana General Assembly has introduced Senate Bill 11, which would create
ABLE accounts in Indiana. Like the federal law, Indiana's ABLE accounts would allow people
with disabilities to save for "qualified disability expenses", including: education, housing,
transportation, employment training and support, health, assistive technology and
personal support services, prevention and wellness, legal fees and other expenses
approved by the federal government for qualified ABLE programs.
People would be able to contribute to the accounts from pre-tax dollars, with a maximum annual
contribution of $14,000. The total account balance would be capped at $100,000, and would
not be counted in the $2,000 personal asset tests for public assistance benefits.
The Indiana senate is expected to vote on the bill this week. To read the full version of the bill,
visit http://iga.in.gov/legislative/2016/bills/senate/11 and click "latest version". If this bill is
of interest to you, you may wish to contact your representatives in the Indiana Senate with
your opinion. You can find contact information at http://fifthfreedom.org/l/findreps.
UPDATE: As of March 21 the bill was unanimously passed and signed by Governor
Pence. Google "Gov. Pence signs ABLE ACT".
___________________________________________________________________________
2016 Indiana Bills
The Indiana General Assembly is in full swing and committees are working fast to get bills
heard in their house of origin. Soon these bills will be heard in their assigned committees.
These priority bills need action: SB11 SB278 HB1012 HB1219 HB1257.
Visit http://iga.in.gov/legislative/2016/bills/senate/11 and click "latest version".
_____________________________________________________________________________________
FSSA NEWS RELEASE
Family applications for August 2016 are now being accepted for ON MY WAY
PRE-K in the pilot counties.
Families residing in Allen, Jackson, Lake and Vanderburgh countnies must meet
the following eligibility criteria to apply:
The familly must have an income below127% of the poverty level.
The child must be 4 years old by August 1, 2016 and starting kindergarten by
August 2017.
Applications will be accepted until March 25, 2016.
Families who need help finding an approved PRE-K program can call 1-800-299-1627 for assist-
ance with an early learning referral specialist.
ON MY WAY PRE-K is the name of Indiana's first-state-funded prekindergarten program, which
was approved as a five-county pilot by ther Indiana General Assembly in 2014. For more infor-
mation visit www.onmywayprek.org
The Indy Preschool Scholarship Program (Indy PSP) is the city of Indianapolis's first ever
preschool program that provides free scholarships for children from low-income familiesl
The United Way of Central Indiana will provide program adminnistration support by managing
the application, outreach, and evaluation processes. Visit www.indypsp.org for more inform-
ation.
CONTACT INFORMATON: Nami Lemons Phone 317-234-5287 OR E-mail at
namilemons@fssa.IN.gov
____________________________________________________________________________________
NINA MASON PULLIAM SCHOLARS PROGRAM
Nina Mason Pulliam Legacy Scholars Program wishes to invite qualifying individuals
to apply for their scholarship. Application and details can be found at
http://nina.uc.iupui.edu/
___________________________________________________________________________
There are now a variety of funding options for ABA Therapy (As of March 3,
2016). Contact Michelle Trivedi, The Arc Insurance Project Manager, at
mtrivedi@arcind.org 317-977-2375 or 800-382-9100
——————————————————————————————————————–
If you are just finding out that you have a child with special needs, you most likely want to know "what to
do next". Their are many organizations to help direct you on the appropriate path. A few of those that
can help you get started are:
The Arc of Indiana
Family Voices Indiana
ASK (About Special Kids)
Autism Society of Indiana
IN Resource for Autism
w-summit